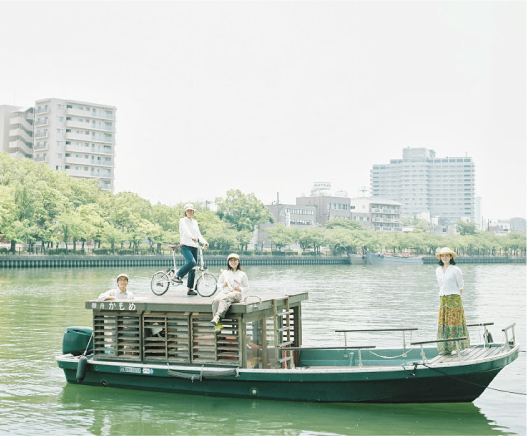 A small boat designed
for enjoy OSAKA
If you would like to travel from a usual day, take a nap,
share a special time together, or just have fun, go to
riverside. Here come the OFUNE-CAMOME.

OFUNE-CAMOME is a sightseeing boat like small house.
We designed this boat and cruise courses for your cozy time in
OSAKA waterways.

FROM RESERVATION TO BOARDING
1. Please book in advance
Please make your reservation by 12:00 noon the 3days before.
If there are vacant seats,you can make reservation on the day.
2. Check the Timetable
Crick these tours or "reservation" button and check the Timetable. You can make reservation from the form.

3. Confirmation
We will send a confirmation to your e-mail address.
4. Boarding
Please arrive the piar 10minutes bofore your cruise.
We usually take payment before departure.
We accept Japanese yen cash and Paypal in advance (Using the "email-invoice" service of Paypal)
*Cancellation/ No show policy
2days before 50% 1day before 50% Within 24hours 100%
(In the case of rain, you can cancell without any cancellation fee.)

*What is included the cruising fee; tax,gude,rental lifebelt,insurance,green tea.
*Because of bad weather or construction work, cruise course and timetable may be changed.
*Foods and drinks can be brought in the boat.(Please take your trash with you)

ABOUT OUR BOAT
CAMOME has a capacity of 10 passengers. Seats are big cushions on the wide wooden deck.
You will surely feel at home with river breeze.



ATTENTION
・Follow the directions of the staffs and captain.
・We propose to put on the Life-Belt
・Please keep seated during the cruise for the boat rocking and low bridges.
・Don't touch the equipments for operating the boat.
・Don't bring the dangerous objects onto the boat.